main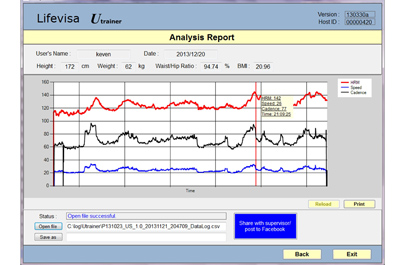 Utrainer trainer system
Speed/Cadence Sensor FCC ID: 2AAQQ52505332333030
USB Dongle FCC ID: 2AAQQ44424832303030
Heart Rate Sensor FCC ID: 2AAQQ48525332323030
CE/FCC/ROHS
The Utrainer Digital Wireless Train Platform contains a USB Receiver; optional accessories include: Wireless Bicycle Speed Sensor, Cadence Sensor, and Heart Rate Chest Strap.
The physiological information real-time intelligent coaching software is used to record data and output analysis of bikers' physical training effectiveness in order to increase the fun of training.
The Utrainer is suitable for various bikes and bike training platforms. In addition to recording data from the training process, the intelligent coaching software can raise alertness during the process, offer real-time information about training target completion rate or information of prompted, and warn about user's physiological statistics, such as BMI, MPL and heart stress.
The intelligent coaching software is the user's best coach, and the Utrainer is the user's best trainer.